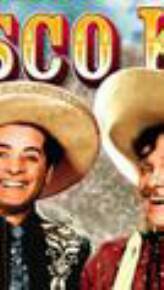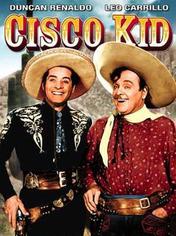 The Cisco Kid is a half-hour American Western television series starring Duncan Renaldo in the title role, The Cisco Kid, and Leo Carrillo as the jovial sidekick, Pancho. Cisco and Pancho were technically desperados[citation needed], wanted for unspecified crimes[citation needed], but instead viewed by the poor as Robin Hood figures who assisted the downtrodden when law enforcement officers proved corrupt or unwilling to help. It was also the first television series to be filmed in color,although few viewers saw it in color until the 1960s.

This set comes in 3 volumes

Adventures of O'Henry's famous Robin Hood of the old west.

The first tv series to be filmed in color.

Starring

Duncan Renaldo as Cisco

Leo Carrillo as Pancho

This set contains the following episodes:

Disc 1: #96) Rodeo; #97) Marriage by Mail; #98) The Iron Mask; #99) Double Deal; #101) The Steel Plow

Disc 2: #40) Vigilante Story; #41) Hidden aAlley; #42) Carrier Pigeon; #43) the Hypnotist Murder; #44)Romany Caravan

Disc 3: #45) Robber Crow; #46) Sleeping GAs; #102) The Ventriloquist; #105) Six-Gun for No Pain; #107) Gold Strike

Disc 4: #110) The Lowest Bidder; #111) Mining Madness; #113) Pot of Gold;

#114) Caution of Curley Thompson;

#117) Three Suspects

Disc 5: #118) Pancho's Niece; #119) the Extradition Papers; #120) New Evidence; #121) Doorway to Nowhere; #126) Cisco & the Giant

Disc 6: #47) Quarter Horse; #48) Jewelry Hold up; #49) Ghost Town Story; #51) Buried Treasure; #52) Spanish Dagger

Disc 7: #50) Quicksilver Murder; #127) Montezuma's Treasure; #128) Vendetta; #129) The Two-Wheeler; #131) A Quiet Sunday Morning

Disc 8: #133) Witness; #136 Cisco & The Tappers; #137) Younf Blood; #140) Quick on the Trigger

disc 9: #145) Strangers; #146) The Joker; #147) MAn with the reputation; #148) The epidemic; #149) mr x

Disc 10: #1 Boomerang; #2) counterfeit money; #16) Newspaper crusaders; #17) Dog story; #19) the old bum

disc 11: #21) pancho hostage; #23) phoney sheriff; #24) uncle disinherits niece;

#27) performance bond; #260 Water rights

This set contains the following episodes:

Disc 12: #130) the tumblers; #132) arroyo millionaire's castle; #139) bounty men; #141) gold, death & dynamite; #142) jumping beans

Disc 13: #103) powder trail; #104) cisco plays ghost; #116) the hospital; #122) stolen river; #123) son of a gumman

Disc 14: #11) cattle quarantine; #12) the renegade son; #124) juggler's silver;

#143) ambush; #144) six-gun cupids

Disc 15: #13 false marriage; #14) wedding blackmail; #91) outlaw's gallery; #92) the black terror

Disc 16: #3) cattle rustling; 

#154) dangerous shoemaker; #155) magician of jamesville; #156) tangled trails;

#77) the photo studio

Disc 17: #100) horseless carriage; #79) bodyguard; #80) pancho and the wolf dog; #81) bullets and the booby trap; #82) the gramophone

Disc 18: #106 haunted stage stop; #108) trouble in tonopah; #109) harry the heir; #112) sundown's gold; #115) fool's gold

Disc 19: #72) the fire engine; #73) the census taker; #74) smuggled silver;

#75) the runaway kid; #76) fear

disc 20: #68 dead by proxy; #69) the devil's deputy; #70) church in the town;

#71 Gun totin' papa

Disc 21: #63) mad about money; #64 lost city; #65) thunderhead; #66) bell of santa margarita; #67) lodestone

This set contains the following episodes:

Disc 22: #8 medicine flats; #9 Railroad land rush; #10) the will; #15 The Lynching story; #32) medicine man show

Disc 23: #33 ghost story; #37) the bates story' #390 Black Lightning; #87) the faded general; #88) the fugitive

Disc 24: #89) indian uprising; #90) the raccoon story; #93) sky sign; #94) cisco meets the gorilla; #95) not guilty

Disc 25: #4) big switch; #5) convict story; #6) oil land; #7) chain lightning;

#20) haven for heavies

Disc 26: #18) confession for money;

#25) phoney heiress; #53) monkey business; #54) the puppeteer; #22) freight line feud

Disc 27: #55) the talking dog; #56) pancho & the Pachyderm; #58) face of death;

#60) laughing badman; #61) canyon city kid

Disc 28: #62) dutchman's flat; #83) freedom of the press; #84) battle of red rock pass; #85) bandaged badman; #86) chinese gold

Disc 29: #35) kid sister trouble; #36) water toll; #38) water well oil; #57) kid brother; #59) big steal

disc 30: #28) STOLEN BONDS; #29) POSTAL INSPECTOR; #30 JEWELRY STORE FENCE;

#31) FOREIGN AGENT; #34) PROTECTIVE ASSOCIATION

Disc 31: #78) COMMODORE GOES WEST; #125) KIDNAPPED CAMERAMAN; #134 CHOCTAW JUSTICE; #135) NEW YORK'S FINEST

disc 32: #150) ROUNDUP; #151) hE cOULDN'T QUIT; #152) KILTS & SPMBREROS; #75) RUNAWAY KID(repeat); #153) west of the law