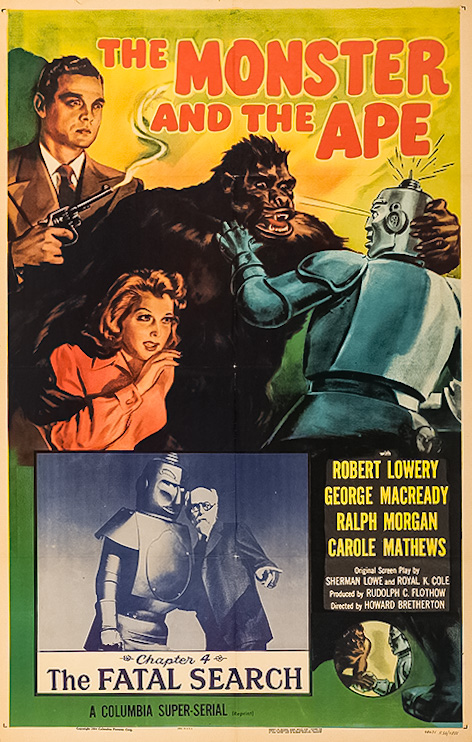 Columbia                                    1945                            15 Chapters

Directed by  Howard Bretherton

At the Bainbridge Research Foundation, Professor Franklin Arnold (Ralph Morgan), unveils his creation, the Metalogen Man, a working robot, to Professor Ernst (George Macready) and three other scientist colleagues. Shortly afterwards, the three associates are killed by Thor (Ray Corrigan), a huge ape owned and  trained by Ernst. Then Arnold, his daughter Babs (Carole Mathews) and Ken Morgan (Robert Lowery), a representative of the company for whom the robot was made, find it has been stolen. They search for Thor, the robot and Ernst through a series of cliff-hanging adventures as Ernst struggles to gain control of the robot and the full supply of metalogen needed for its production.

Robert Lowery

Carole Mathews

Ralph Morgan

George Macready

Willie Best

Jack Ingram

Anthony Warde

Eddie Parker

Ray Corrigan

Bud Osborne

  Chapter Titles

1. The Mechanical Terror

  2. The Edge of Doom

  3. Flames of Fate

  4. The Fatal Search

  5. Rocks of Doom

  6. A Friend in Disguise

  7. A Scream in the Night

  8. Death in the Dark

  9. The Secret Tunnel

  10. Forty Thousand Volts

  11. The Mad Professor

  12. Shadows of Destiny

  13. The Gorilla at Large

  14. His Last Flight

  15. Justice Triumphs

P.O.Box 77

Gaylordsville, Ct.

06755-0077

SHIPPING RATES:

USA.. all prices as listed; CANADA; add $9.00 p/item;

OVERSEAS :add $15.00 p/item

Multiple titles please inquire for better shipping  rate