58 Grove Road

Gaylordsville, Ct

06755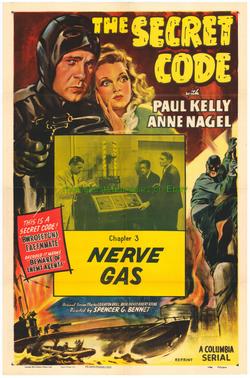 Poice Lieutenant Dan Barton arranges to get thrown off the Police Force in order to go undercover to smash an enemy sabotage ring.

He gets invited to join the bad guys while trying to steal a top secret formula! He secretly dons the disguise of The Black Commando and eludes the police while trapping and knocking off the spies!!

From a 16mm film transfer

Directed by Spencer G. Bennet

Columbia  1942   15 Chapters

Starring

Paul Kelly  


Dan Barton




  The Black Commando
Ann Nagel


  Jean Ashley
Clancy Cooper

    Pat
Trevor Bardette

   Jensen
NOTE:

THIS IS A 3 DISC UPGRADE SET.

BEAUTIFUL COPY !!

11/01/12

vhs will still be 2 tapes